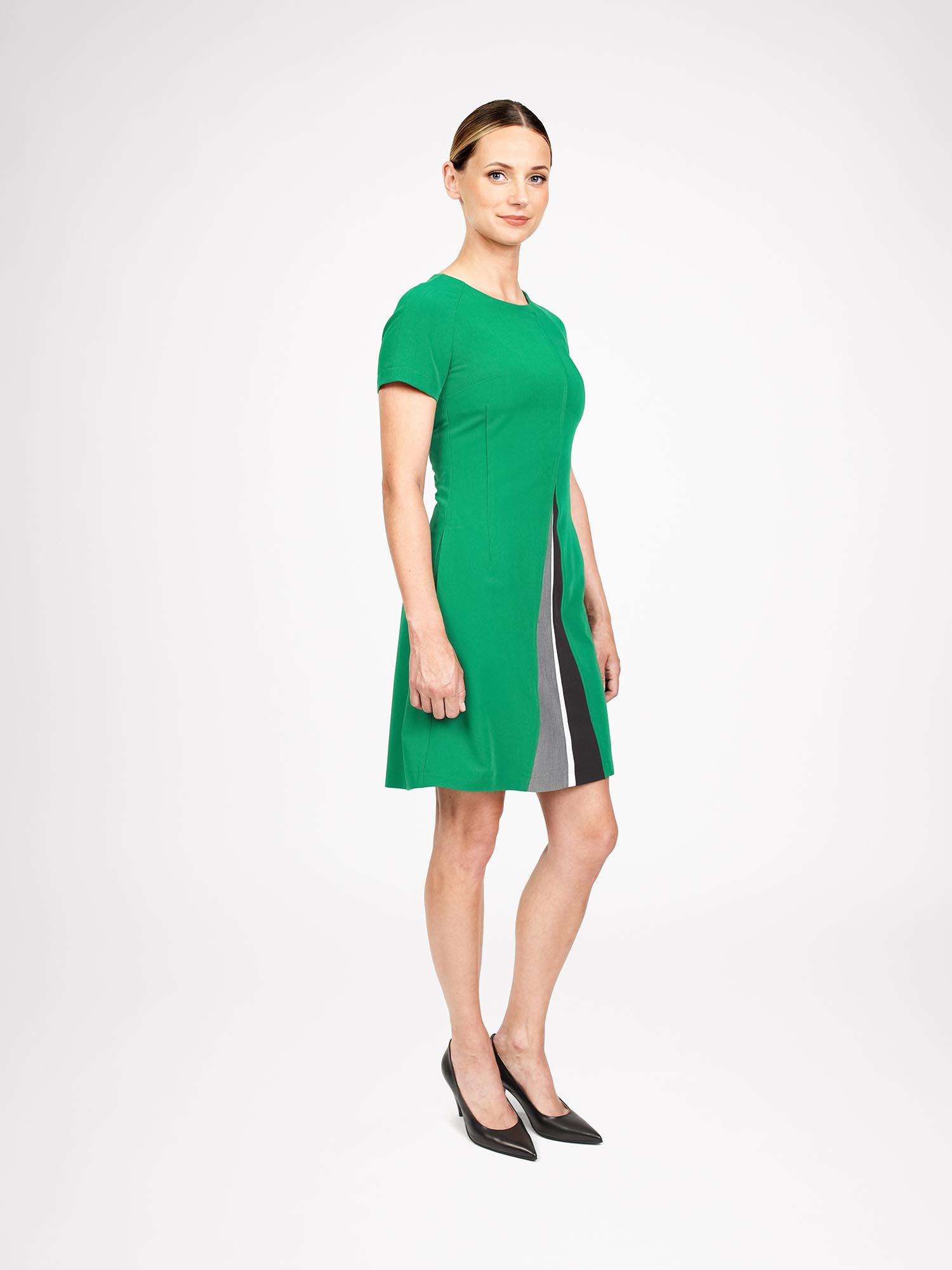 Flared short-sleeve dress
Fitted short-sleeve dress. Flared at the waistline. Round neckline. Hidden zip fastening on the back. Front triangle detail below the waist offers the opportunity to customize the dress – simply choose the colours you like.
Jackets, vests, trousers, skirts or dresses can be made of different fabrics. The fabric composition can be selected individually or from our fabric list:
– 55% polyester, 43% wool, 2% elastane; fabric weight 230 g/m²;
– 54% polyester, 44% wool, 2% elastane, fabric weight 215 g/m²;
– 54% polyester, 44% wool, 2% elastane; fabric weight 186 g/m²;
– 73% polyester, 23% viscose, 4% elastane; fabric weight 210 g/m²;
– 75% polyester, 20% viscose, 5% time; fabric weight 210 g/m²;
– 100% polyester; fabric weight 200 g/m².
All fabrics can be one colour, striped or spotted. The collection also offers the choice of fabrics made from organic raw materials.
Employee image creatively contributes to the development of the company's brand. To achieve the best results, personalise the uniform you choose:
– Choose the main colour of the clothing from the fabric colour palette provided. The upper and lower parts of the uniform do not have to be of one colour.
– Pay attention to the details: The uniform is comprised of lining, collar, cuffs, buttons, buckles and zippers. The main fabric can be combined with details of both the same or other colours.
– Create an impression of luxury with pleasant but optional details. A perfect example is a colour trimming.
– Play with accessories. Use secondary colours for shawls, ties or belts, or even create special fabrics, which can be used for brand symbols.
– Enhance brand identity recognition with badges or name cards.
– Create a more sporty uniform for Fridays or informal meetings. This is well served by a branded sublimated T-shirt.