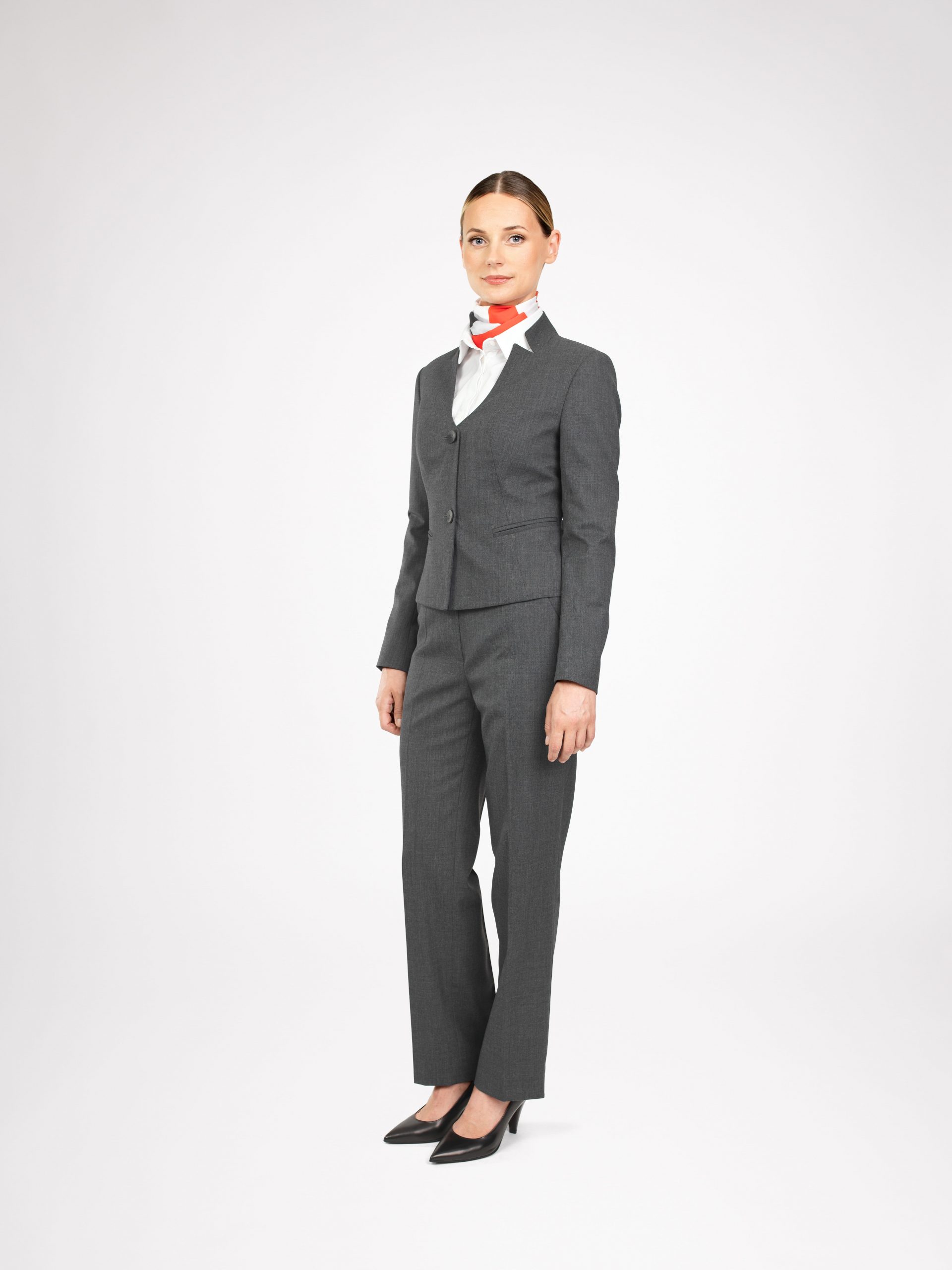 Jacket with stand collar
Short tailored jacket with stand collar for women. It features two front slip pockets and two buttons. It has a subtle V slit on the back for more comfort.
Composition: 43 % wool, 55 % polyester, 2 % elastane.
Fabric weight: 230 g/m2.
Employee image creatively contributes to the development of the company's brand. To achieve the best results, personalise the uniform you choose:
– Choose the main colour of the clothing from the fabric colour palette provided. The upper and lower parts of the uniform do not have to be of one colour.
– Pay attention to the details: The uniform is comprised of lining, collar, cuffs, buttons, buckles and zippers. The main fabric can be combined with details of both the same or other colours.
– Create an impression of luxury with pleasant but optional details. A perfect example is a colour trimming.
– Play with accessories. Shawls, ties or belts may use secondary colours, or even create special fabrics, which can be used for brand symbols.
– Enhance brand identity recognition with badges or name cards.
– Create a more sporty uniform for Fridays or informal meetings. This is well served by a branded sublimated T-shirt.
Fabrics
Jackets, vests, trousers, skirts or dresses can be made of different types of fabrics. The fabric composition can be selected individually or from our fabric list:
– 55% polyester, 43% wool, 2% elastane; fabric weight 230 g/m²;
– 54% polyester, 44% wool, 2% elastane, fabric weight 215 g/m²;
– 54% polyester, 44% wool, 2% elastane; fabric weight 186 g/m²;
– 73% polyester, 23% viscose, 4% elastane; fabric weight 210 g/m²;
– 75% polyester, 20% viscose, 5% time; fabric weight 210 g/m²;
– 100% polyester; fabric weight 200 g/m².
All fabrics can be one colour, striped or spotted. The collection also offers the choice of fabrics made from organic raw materials.