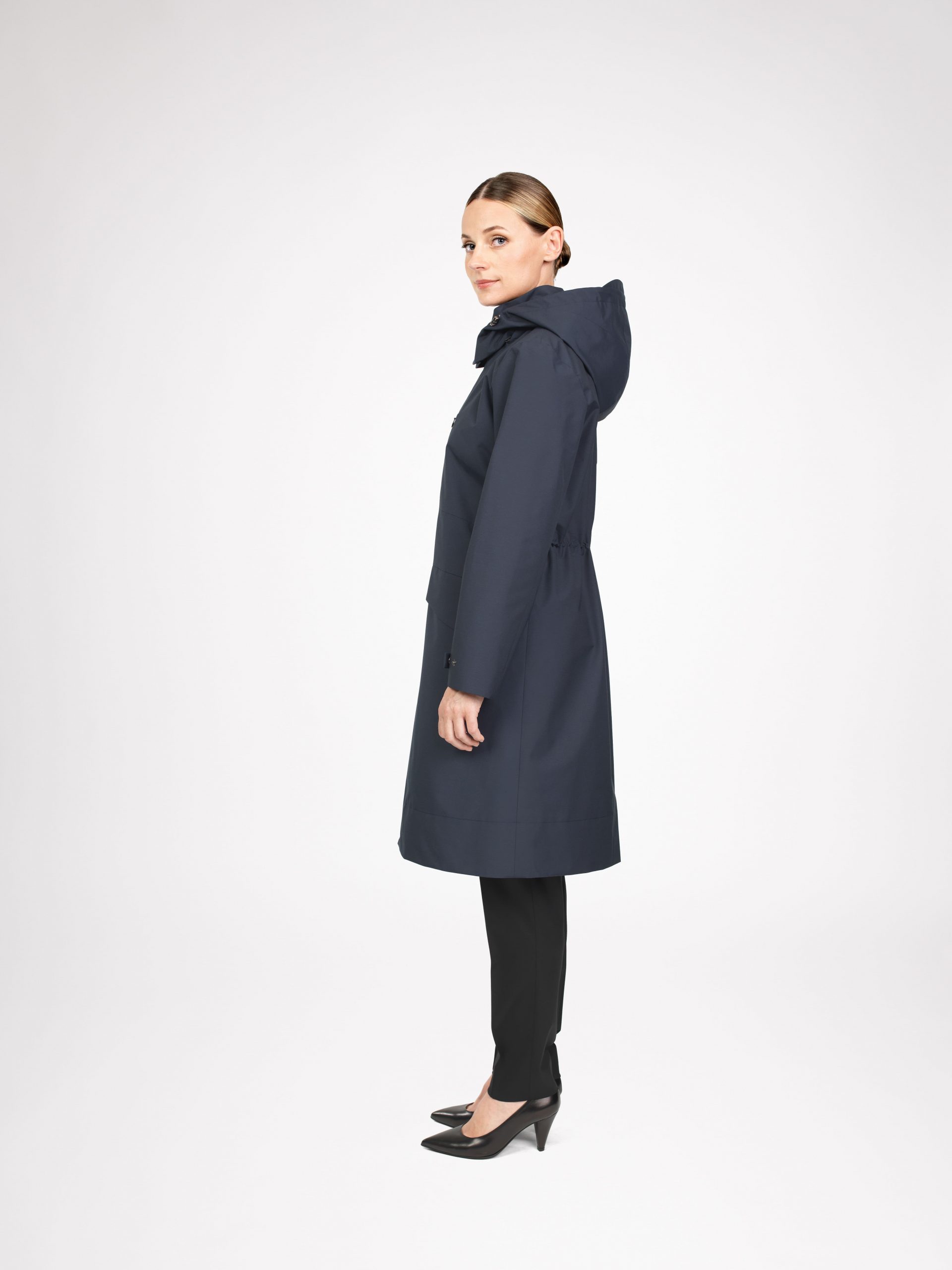 Unisex raincoat (women sizes)
Straight silhouette raincoat that fits both men and women. It offers functional protection against rain and wind. The raincoat features a removable and adjustable wider hood, an additional collar protects against wind and cuffs are adjustable. There are two deep front flap pockets. A zipped chest pocket is an exceptional design accent. The waist can be accentuated by pulling a drawstring. Press button fastening.
Composition: 77% polyester, 23% cotton.
Fabric weight: 170 g/m2.
Employee image creatively contributes to the development of the company's brand. To achieve the best results, personalise the uniform you choose:
– Choose the main colour of the clothing from the fabric colour palette provided. The upper and lower parts of the uniform do not have to be of one colour.
– Pay attention to the details: The uniform is comprised of lining, collar, cuffs, buttons, buckles and zippers. The main fabric can be combined with details of both the same or other colours.
– Create an impression of luxury with pleasant but optional details. A perfect example is a colour trimming.
– Play with accessories. Use secondary colours for shawls, ties or belts, or even create special fabrics, which can be used for brand symbols.
– Enhance brand identity recognition with badges or name cards.
– Create a more sporty uniform for Fridays or informal meetings. This is well served by a branded sublimated T-shirt.
Fabrics
Coats, raincoats, jackets can be made of different types of fabrics. The fabric composition can be selected individually or from our fabric list:
– 100 % cotton; fabric weight 220 g/m²;
– 23 % cotton, 77 % polyester; fabric weight 170 g/m²;
– 100 % polyester; fabric weight 70 g/m² or 130 g/m²;
– 86 % polyester, 12 % polyurethane, 2 % elastane; fabric weight 320 g/m².
All these fabrics can be single layers, double layers and even three layered, as well as quilted, thus doubling their warmth. The collection also offers the choice of fabrics made from organic raw materials.